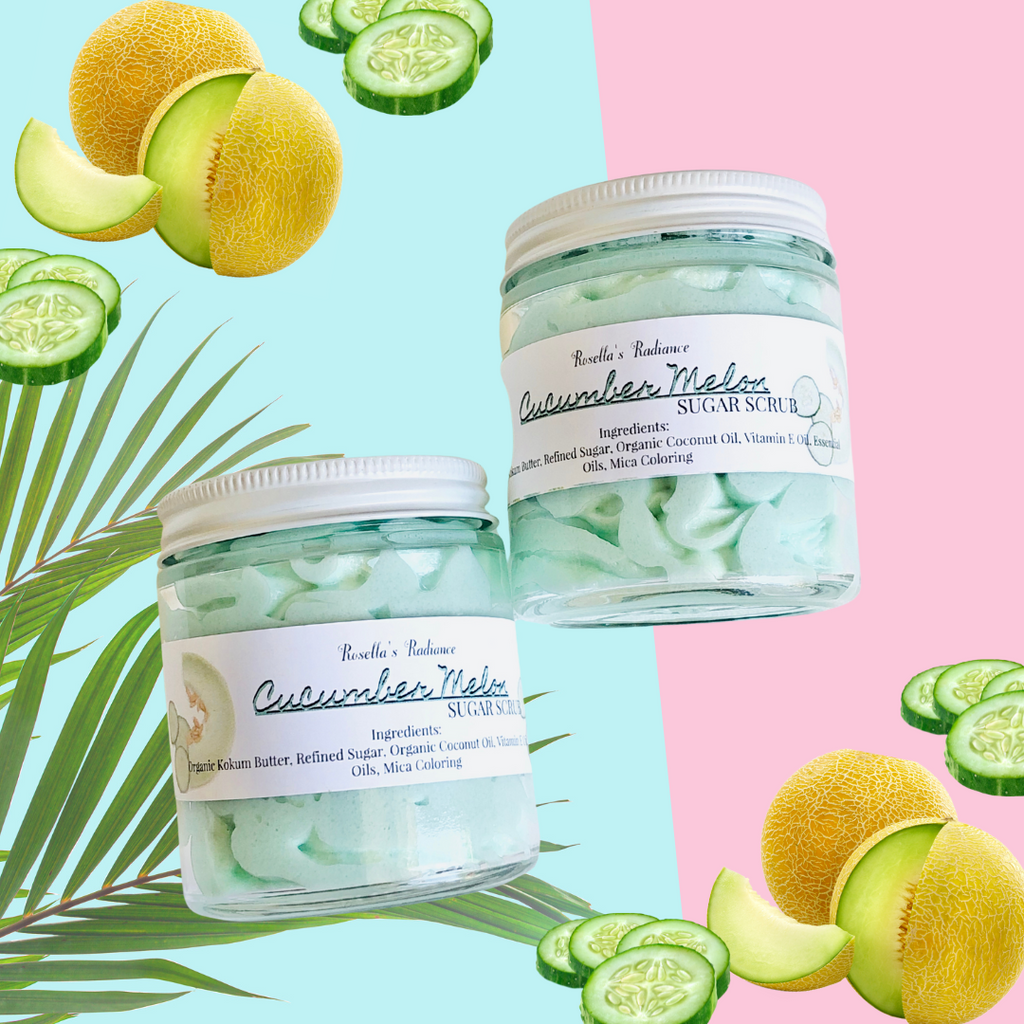 Discover your zen with a little help from our Cucumber Melon sugar scrub! Top notes of zesty lime and ozone give way to a fresh cucumber aroma, sweetened by ripe honeydew and cantaloupe melons. Bamboo and aloe base notes enhance the green, natural quality of this refreshing scent. 
Sugar scrubs rejuvenate your skin by exfoliating the dead skin, dirt, and sweat that clogs pores. After use of our all-natural, beautifully scented sugar scrubs, your skin will be glowing! This base is handmade with love and care, with only the finest oils that promote clear skin and acne-reducing results.
Ingredients: Shea Butter, White Refined Sugar, Organic Coconut Oil, Jojoba Oil, Essential Oils, Mica. 
If irritation occurs, quit use immediately and rinse with cool water. External use only!
Testimonials
What's better than walking around smelling like fresh baked pistachio muffins? Nothing. I was super stoked to see that she added this scent to her list, it's my favorite and so not only did I order the whippin wash,but I also had to get the matching body butter. Love the combo on my skin. Loyal customer for life💚
Michelle Y.
Body Butter
I am officially obsessed with this whipped soap that I am now ordering four more! I seriously love it so much I've been showering morning and night just so I can use it! It's the only soap I'm ever going to use from now on. Thank you for making such a wonderful product!
Jacqueline P.
Whippin' Wash
I seriously can't get enough of this whole line. I have tried the whipping wash, hand sanitizer, body butter and the roll on. Amazing!!! The smells are the best and long lasting and so fresh. It's make me happy!!! 💫💝I would probably eat it if I could.
Laura R.
Beauty Bundle
i ordered a 100% rose lavender scent level and it is PERFECT. the smell is so beautiful. the texture is perfect and i'm definitely going to order again once i run out. THANK YOU!! I 100% RECOMMEND
Sarai F.
Build Your Own Body Butter